PW & WFI Generation Plants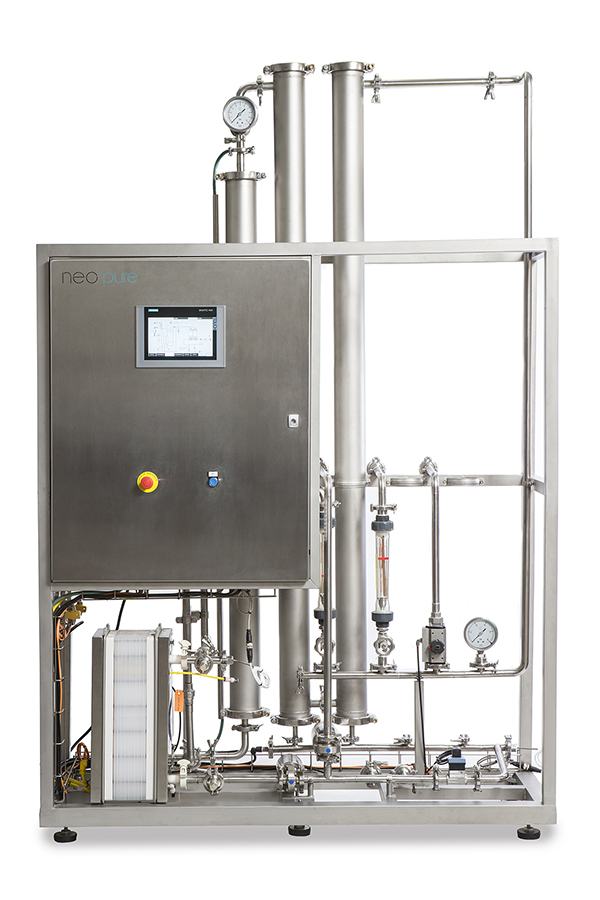 The PW & WFI generation plants from Neopure are complete systems with reverse osmosis and electrodeionization, with on-line monitoring systems. Plug & play equipment up to 2.000 l/h and customized equipment up to 10.000 l/h. Efficient equipment without high water consumption of city water.
The purified water and the high purified water are used mainly as a cleaning reagent, as a raw material is the basis material for the non-injectable products manufacturing, and they are the basis to obtain a better-quality water.
Tanks:
AISI-316 L
Pipes, valves and instruments: AISI-316 L
Bench: AISI-304
The Purified Water generating plant is formed by two different parts, the inverse osmosis and the deionizer.
a) Inverse osmosis
The osmosis feed is with pre-treated water, with particles no larger than 50-60 microns.
It is vital to check that the water from the descale for the osmosis feed is 0ºHTF hardness.
The osmosis stage is formed by:
A pressurizing pump fed from the electro-deionizer
The membrane containers is formed by a set of a theoretical osmosis of a single tube, configured according to the production of the plant. According this configuration, the hydraulic yield of this system corresponds to 40% of permeate and 60% of rejection water.
b.) Electro-deionizer
The electro-deionizer is the part dedicated to the ionic and bacterial treatment of the osmotized water. The EDI contains a complete electrical panel with a PLC that monitors the operation of the entire Purified Water production plant. A touch-screen is used to as a HMI.
Non-proprietary elements (Gemü, Siemens, Festo, SMC)